[Access Key] 8 Waves Bundle Collection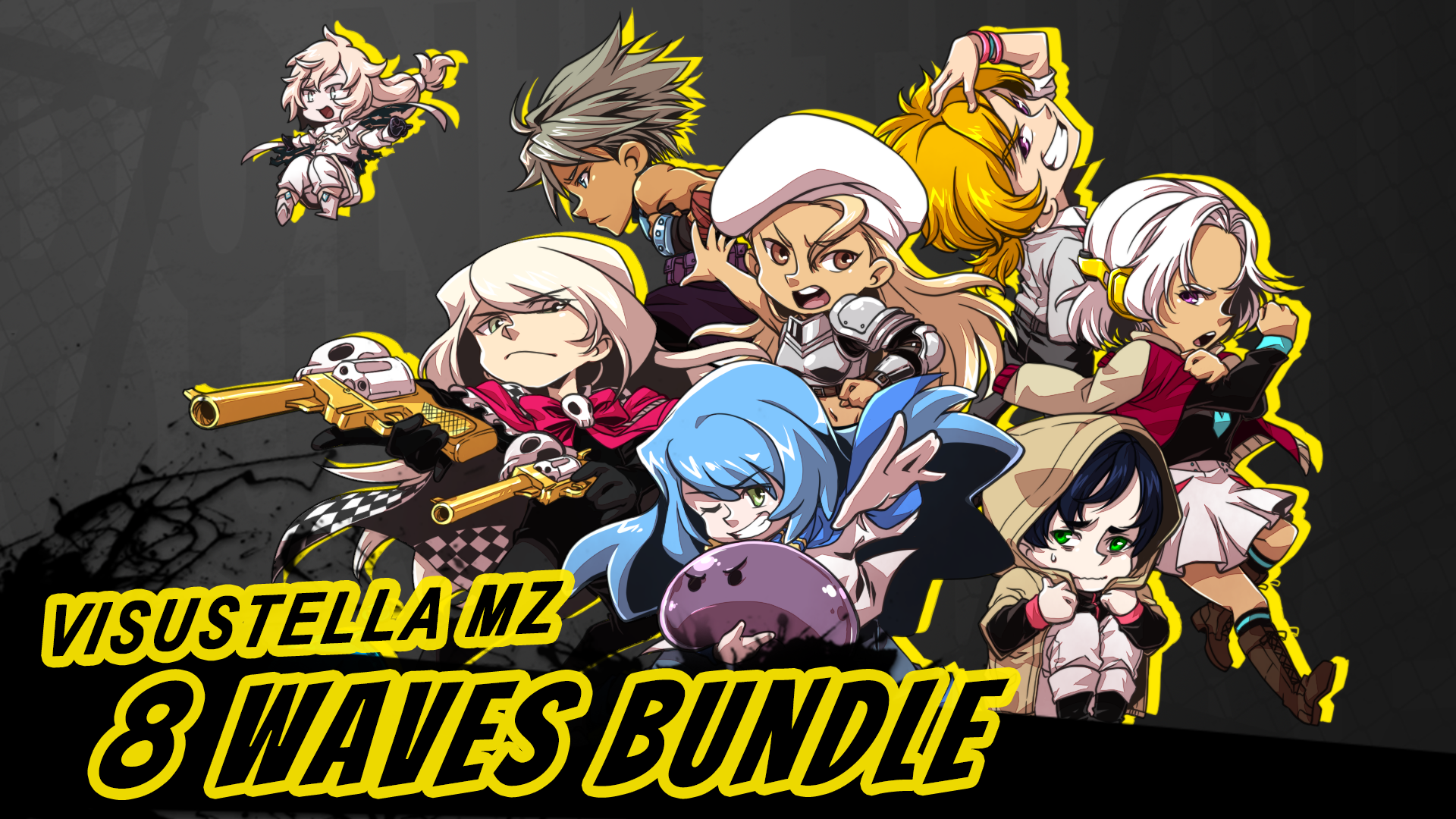 This is an access key used to access the plugins released across the various VisuStella MZ waves, from past waves to future waves.
This does not and will not include any VisuStella plugins or tools that are released outside of the Waves (ie. Luna Engine, the MV plugins, other MZ plugins, etc.).
This means that the bundle does NOT include the following:
Does NOT include Luna Engine
Does NOT include Stella Character Generator
Does NOT include MV Plugins
Does NOT include Non-Wave MZ plugins such as the Custom Construct Series, Visual Novel Series, etc.
Does NOT include Tier 5 plugins that are patches
Does NOT include The graphical assets
Does NOT include anything that is NOT a part of the Waves series.
It does NOT include those listed above.
Again, it does NOT include those listed above.
NOT INCLUDE
---
🌻 How Does It Work? 🌻
First, you purchase this access key for this bundle set. We HIGHLY recommend that you have an itch.io account for this.
As long as you own the access key, the plugins for this bundle's plugins will become -100% off!
That's OVER 70+ plugins you can get for a massively reduced price!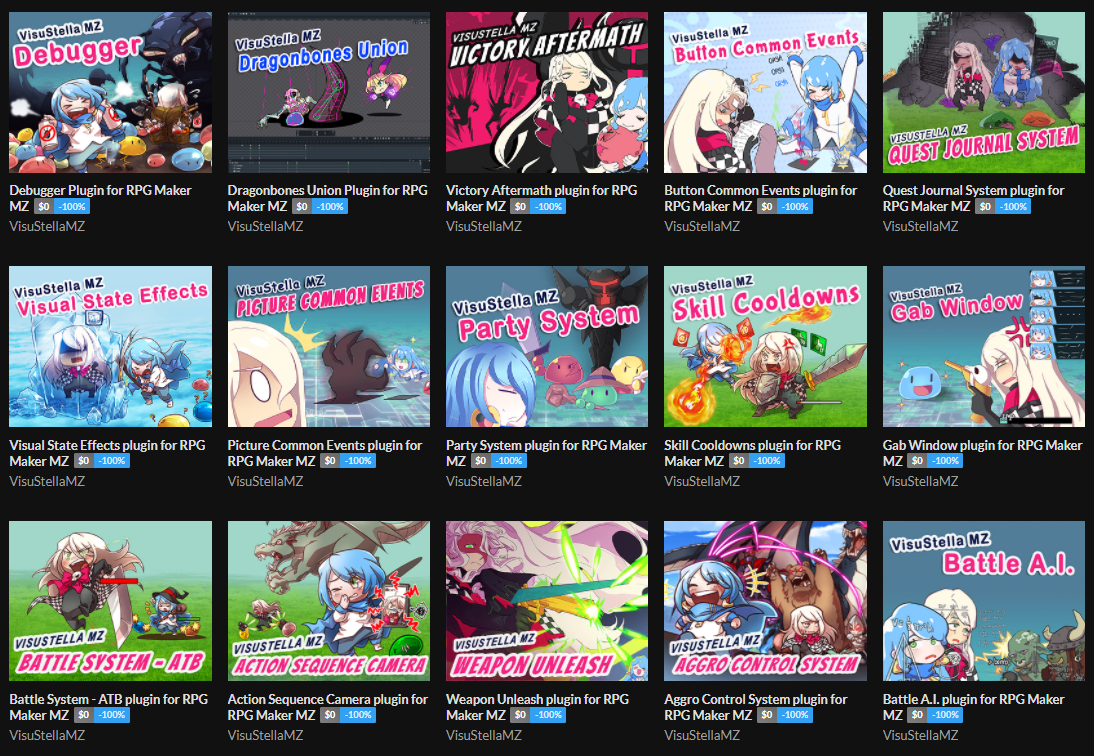 You could then go to that plugin's page and click Download Now to with the 100% off to instantly download it after the plugin becomes available! Or, you can just download it and the other plugins in the wave straight from this page!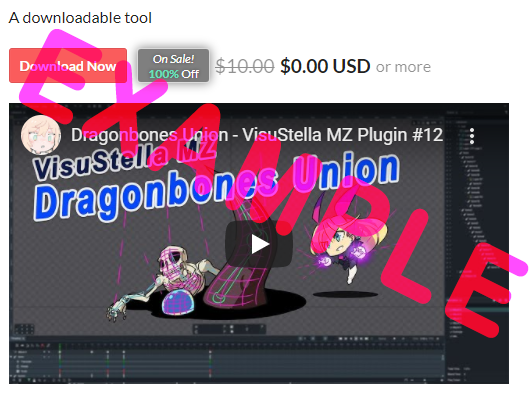 ❓Frequently Asked Questions ❓
-
Q: If I buy the 8 Wave Collection Access Key before the remaining plugins are available, will I have access to them after they're available?
A: Yes. Just simply visit the plugins' pages to download them.
-
Q: If a plugin gets updated after I purchase the All Wave Collection Access Key, will I be able to download it again without repurchasing the plugin?
A: Yes. Just simply visit the plugins' pages to download them.
-
Q: Does these plugins work with RPG Maker MV?
A: No, they do not. VisuStella MZ plugins are specifically made for RPG Maker MZ. If you are looking for an MV version of this plugin, there's a highly likely chance you can find an alternative of it from Yanfly Engine Plugins, Fallen Angel Olivia, Atelier Irina, and Arisu's Dollhouse as the VisuStella MZ plugin library is created by these same individuals.
-
Q: Will the All Wave Collection Access Key become more expensive after more plugins are released?
A: Nope. They will remain the same price.
-
Q: Why is this bundle more expensive than the RPG Maker MZ software itself?
A: That's because it's a bundle of everything we've made for the Waves. Don't look at it as one product, but instead, look at it as 70+ products sold for a massively reduced price.
If you look at all of the official RPG Maker DLC and total up their prices, you'll see that the total price would be well over their software's base cost as well.
By the way, buying each plugin individually costs $494 assuming you purchase every plugin from Waves 2 through 8. That's nearly 5x the price of the 8 Waves Bundle collection cost. You are saving yourself $394 by buying the bundle as opposed to buying them individually.
-
Q: I have bought individual Wave Bundles. Will I get a discount on the 8 Waves Collection?
A: Yes. You should get around 25% off for each Wave you own up to a cap of 100%.
-
Q: What plugins are in Wave 1?
A: They are the free plugins provided with the VisuStella MZ Sample project. These are bundled together with the 8 Waves Bundle for the sake of convenience when updating.
-
Q: Where can I find information about the other waves?
A: The information for each wave can be found on our individual product pages listed on our anchor page. Inside them are video trailers as well as links to the wiki pages associated with the plugins.
-
Q: Am I saving more money by buying the 8 Waves Bundle than buying the plugins individually?
A: Easily. There are over 70+ plugins included in this bundle and that's less than $2 each for them. Individually, these plugins cost anywhere from $3 to $15 each.

-
Q: Am I saving more money by buying the 8 Waves Bundle than buying the plugin bundles separately?
A: Yes, the number of Waves to be purchased to break even is a total of 4x Waves (each of them cost $25). Anything more is a positive thereafter.
-
Q: Will there be future waves after Wave 8?
A: It is uncertain at the moment if we will create more waves after Wave 8. If there will be, then 10 will be the upper limit.
-
Purchase
In order to download this tool you must purchase it at or above the minimum price of $100 USD. You will get access to the following files:
8 Waves Collection (Update #131.2)
2 MB